As has been mentioned in the previous post I'm going to tell you about American architect Frank Lloyd Wright.
First time I saw his creation in New York... One august sunny day my friends and I decided to go to the Solomon R.Guggenheim museum...and there, at the crossing of 5th avenue and 88th street I instantly fall in love.
Solomon R.Guggenheim Museum


It's pure simplicity of the facade, rounded shape, smooth lines... What a marvellous feeling to be there.
Someone could say "And this is incredible beauty?????" You are absolutely right! For me it's a real treasure! And by the way it was revolutionary ambitious project for that time.
Frank Lloyd Wright, Hilla Von Rebay and Solomon R.Guggenheim
Solomon R.Guggenheim Museum was the last major work for Frank Lloyd Wright ( it was opened October 21, 1959, six months after his death). To be true circular style was untypical for Frank Lloyd Wright. He is mostly known for Prairie style ( such called "organic architecture").
Solomon R. Guggenheim Museum
I think it was very clever idea to create spiral gallery ramp. Nothing will disturb you from enjoying and investigation process. Later was build additional wing to the main gallery.
Another feature of the museum is it's ceiling: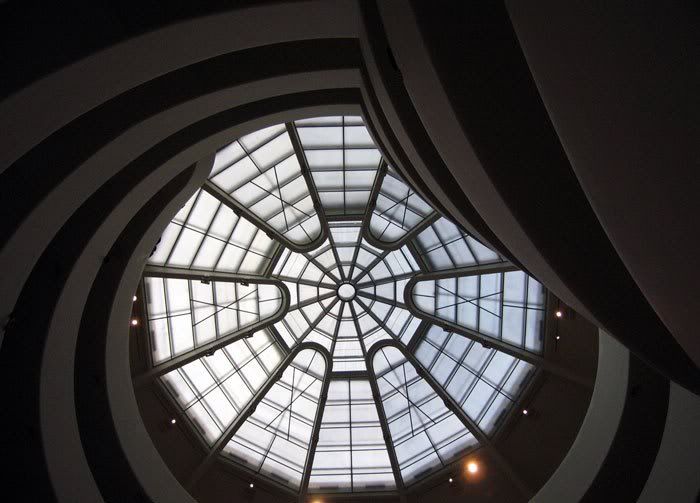 Solomon R. Guggenheim Museum
In the museum's shop you can buy cute bookmarks which shape repeats this iconic view.
Official website of the museum you can visit by clicking this
link
.
In case you would like to know all the details about this masterpiece, you can visit this
site
.